Join us at the Rockin' Railroad Summer Concert Series benefiting The New York Foundling!
This deal has ended
23:59:00 on 6/6/2012
Refer Friends, Get $8


Get an $8 credit for each friend you refer to 8moms when they make their first purchase!
5 Discipline Traps to Avoid
Making mistakes is part of being a parent, and discipline is an area where we slip up constantly.
More Parenting Articles
Want to say something about this deal?
Description:


Calling all future rock stars and pizza lovers
In early June, we are offering the best of both worlds for you with Kidville's Pizza, Play & Music Summer Benefit Concert Series. Come to a superbly entertaining, live concert with Kidville's very own Rockin' Railroad band, playtime in their amazing indoor playspace, AND a super delicious pizza party to boot! The 2012 Concert Series is benefiting The New York Foundling and their 143-year commitment to keeping children safe and families together.

When you get amazing music and scrumptious pizza together, special things happen. Especially at a place like Kidville!

Yummy Pizza, live music, and playtime.
Just $20 per child!
Concert times and locations: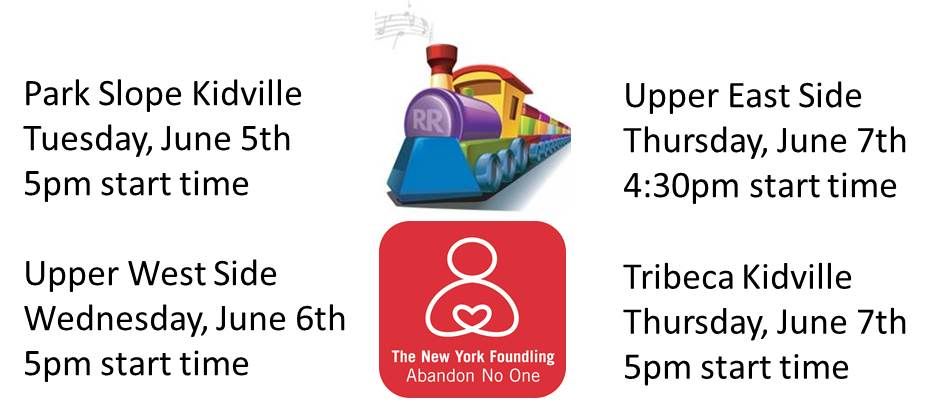 Please bring a toy or article of clothing, sneakers, a stroller, linen or even towels for a child in need. Read more about the wishlist for kids and how you can help.
Kidville is always looking at ways to give back to the community. A portion of the proceeds of every ticket will go directly to The New York Foundling.

About The New York Foundling:
Founded as a home for abandoned children, The New York Foundling has been saving children, preserving families and building communities since 1869. The Foundling's extensive network of community-based services provides havens for children whose safety is at risk, loving foster homes and specialized facilities to protect children, and support for families to strengthen them. Learn more here.
Select your date and location
UES - Thursday, June 7th - 4:30
UWS - Wednesday, June 6th - 5:00
TIBECA - Thursday, June 7th - 5:00
PS - Tuesday, June 5th - 5:00
Fine Print
Select date and location at check-out.
One voucher required per child.
Adults are free.
Must bring voucher to concert to serve as ticket.
Parent or caregiver required,
See General Rules that appy to all deals.
Click here for more details.
Named 'Best of' by New York Magazine, Kidville operates large, upscale facilities, catering to young children and their families. In addition to offering a wide range of developmental classes for newborns through six year olds, including Rockin' Railroad, Run Wiggle Paint & Giggle, My Big Messy Art Class, Big Muscles for Little Babies, Kidville Gymnasts, Kidville Sports, Camp Kidville and Kidville University (Kidville's Pre-School Alternative Program), Kidville also features an indoor playspace, birthday parties for children up to age nine, and at select locations, a retail Boutique and the Kidville Salon. Kidville operates locations around the globe including, New York, Los Angeles, Dallas, Dubai and Mumbai. Kidville is also the parent company of 8moms, an ecommerce website geared toward sophisticated and savvy moms.