As Seen in SHAPE Magazine: $18 for Two Pack of Sip N' Go Reusable Foldable Water Bottles and Insulated Sport Cases!
Ended
$6.99 shipping and handling charges
This deal has ended
23:59:00 on 7/4/2012
Refer Friends, Get $8


Get an $8 credit for each friend you refer to 8moms when they make their first purchase!
5 Discipline Traps to Avoid
Making mistakes is part of being a parent, and discipline is an area where we slip up constantly.
More Parenting Articles
Want to say something about this deal?
Description:
Grip it! Wear it! Drink it!
Sip N' Go

I have been on a search for the perfect water bottle for as long as I can remember. Not only would I concider myself very active, but I am also a breastfeeding mom. Therefore, I spend the majority of my day very thirsty. Most water bottles are either way too cumbersome, too heavy, or made of plastics that I don't concider safe. I just read about the best selling Sip N' Go water bottles in Shape magazine and I am convinced that these are the way to go. Not only are they super light weight and re-usable, but when I am finished hydrating I can fold it up and slip it into my purse. I love it! With this great deal you get two water bottles AND two insulated sports cases to keep your water cool. Perfect for the beach.
Sip N' Go is a collapsible reusable water bottle that allows customers to save money and eliminate environmental waste. Sip N' Go lets you stay hydrated anytime, anywhere. Its durable snaps allow it to fold neat and small enough to fit in your purse or even your pocket. It's lightweight, easy to drink from, and features a comfortable carrying ring. Sip N' Go is freezable, so your drink stays colder, longer. You can even write your name on it, so your bottles never get mixed up.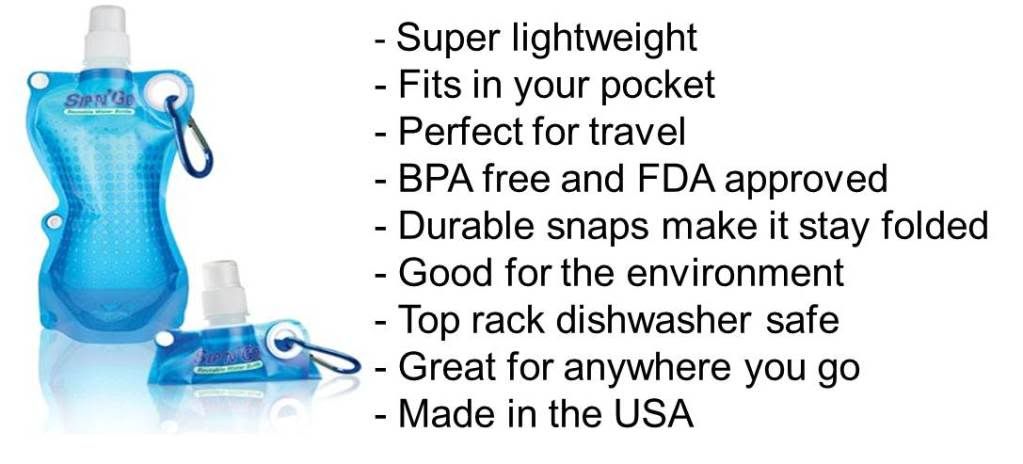 Best,
Highlights
As Seen in SHAPE and Woman's Day
Choose Your Color
Reusable, Foldable and Freezable
Made in the USA
Includes Insulated Sports Cases
Fine Print
You are ordering directly from 8moms.
All orders will ship out on July 11, 2012
Choose your Color Pack at check-out.
Includes two Sip N' Go Water Bottles and cases.
Shipping & Handling $6.99.
See General Rules that aply to all deals.
Click here for more details.
We think of the Earth as a single organism. We are all connected and we are all in this together. It is imperative that we work toward protecting our natural resources and promoting awareness of responsible solutions to our impact on the environment. Our survival depends on it. When we make Earth-friendly products, we not only minimize waste in the manufacturing process, we also give our customers the chance to make a difference by choosing green alternatives for their daily needs. And by using our products, customers can let others know of their commitment to a healthy planet. With Elevate Brands, we can all do our part.
Having been in the consumer products business since 1994, we know first hand that the choices we make at every step of the process make an impact on the environment. We know that it is possible to find solutions that are ethical and planet-friendly. We also know that our customers appreciate convenience and affordability. Sustainable practices coupled with honoring our customers' values is what Elevate Brands is all about.
Elevate Brands was established in 2009 to build a family of brands that promote solutions for responsible living. We design our own products in-house and sell them to retailers, grocers, and department stores. With over fifteen years of experience designing and selling consumer products, we are committed to a smarter, elevated way of doing things