50% Off Shoezooz Shoe Stickers Approved by Oprah!
$9 for 3 Packs of Educations Shoe Stickers for Kids (Value $18)
Ended
$1 shipping and handling charges
This deal has ended
23:59:00 on 10/1/2012
Refer Friends, Get $8


Get an $8 credit for each friend you refer to 8moms when they make their first purchase!
5 Discipline Traps to Avoid
Making mistakes is part of being a parent, and discipline is an area where we slip up constantly.
More Parenting Articles
Want to say something about this deal?
Description:
Left, left, left, right, left

Shoezooz


It is amazing to watch the power of a child's mind as he/she learns from, and is shaped by, the vast amounts of information he/she consume daily. With this knowledge comes an enormous drive for independence and currently my son Jamie's independent obsession is to dress himself. He does extremely well until he gets to his shoes. Statistically, he has a fifty-fifty chance of choosing the right shoe for each foot, but against all odds, he almost never puts left on left or right on right. Then I heard about Shoezooz from Oprah and now putting on his shoes is a snap.

Named to The "O List" in O, the Oprah Magazine.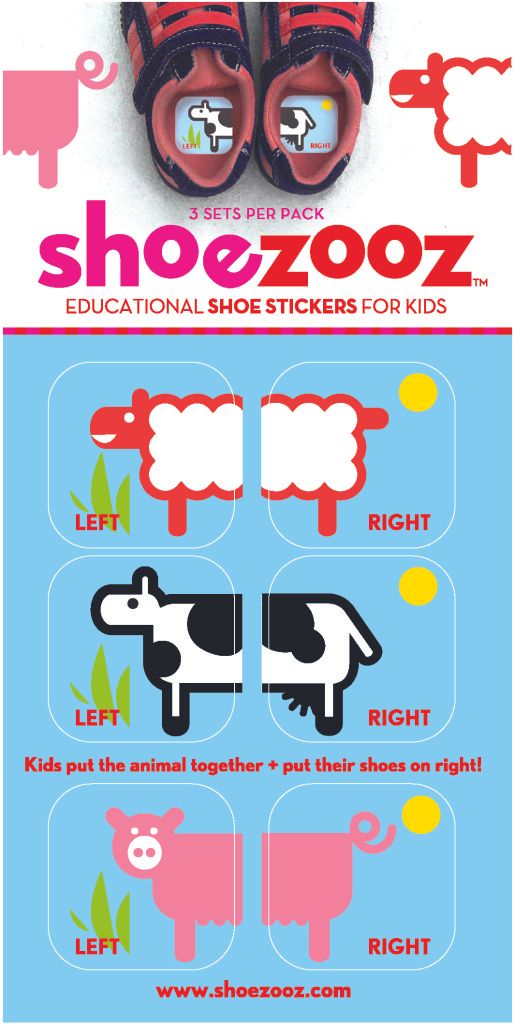 Shoezooz are educational shoe stickers that help kids, especially toddlers, differentiate their left from their right and put their shoes on all by themselves. Shoezooz educational shoe stickers are a perfect tool for parents, moms, teachers, daycare providers, occupational therapists, nursery school teachers, etc. The simple, graphic illustrations and vibrant colors allow kids to quickly put the animal together and easily put their own shoes on the right feet. No reading is required. It's instinctual.

Help your child put the best foot forward with this great offer from 8moms.

Best,
Highlights
Teach kids to put shoes on the right foot
Super cool gift for the holidays
Durable, vinyl, moisture-resistant stickers
Each pack comes with three sets of stickers
Fine Print
8moms credits cannot be applied towards this deal.
Shipping is $1.00.
Only ships within U.S.
No returns.
See General Rules that apply to all offers.

How to Buy:
1) You are purchasing this offer directly through 8moms.
2) Click "BUY NOW" at check out on 8moms and enter your shipping address.
3) Allow 10-14 business days to receive product after your purchase.
4) Keep checking 8moms for more great offers!


Click here for more details.
Shoezooz educational shoe stickers are the easiest way to teach kids to put their shoes on right. They adhere to the inside heel of the left and right shoes. Printed on the pairs of stickers is an adorable, graphic, colorful image of a friendly animal split in half (the head and front of the body on the left sticker and the tail and back of the body on the right sticker). By simply matching up the animal halves, kids put their shoes on the correct feet, all by themselves. It's instinctual. No reading required.
Shoezooz were created by Ellen Lichtman, a Baltimore-based professional graphic and web designer and mom. Shoezooz, LLC is a 100% woman-owned business.