Voted Great Game for 2012 by Good HouseKeeping - 30% Off Melissa and Doug Suspend Family Game!
$12 for Melissa and Doug Suspend Family Game (Value $17)
Ended
$5 shipping and handling charges
This deal has ended
23:59:00 on 10/2/2012
Refer Friends, Get $8


Get an $8 credit for each friend you refer to 8moms when they make their first purchase!
5 Discipline Traps to Avoid
Making mistakes is part of being a parent, and discipline is an area where we slip up constantly.
More Parenting Articles
Want to say something about this deal?
Description:
Rainy day fun for the whole family

Melissa & Doug

I am always looking for great rainy day activity ideas. My kids are just old enough now to appreciate a good old fashioned family style game. When I imagine the four of us in the living room all playing a game, having fun together as a family, I cannot stop smiling. Personally, I used to be a Jenga junky, now I have found a game that takes it to a whole new level. Built for steady nerves and steady hands, this game is sure to create both tons of laughter and lasting memories. Bring the family together with this super game with this great offer from 8moms.
Good Housekkeping 12 Great Games for 2012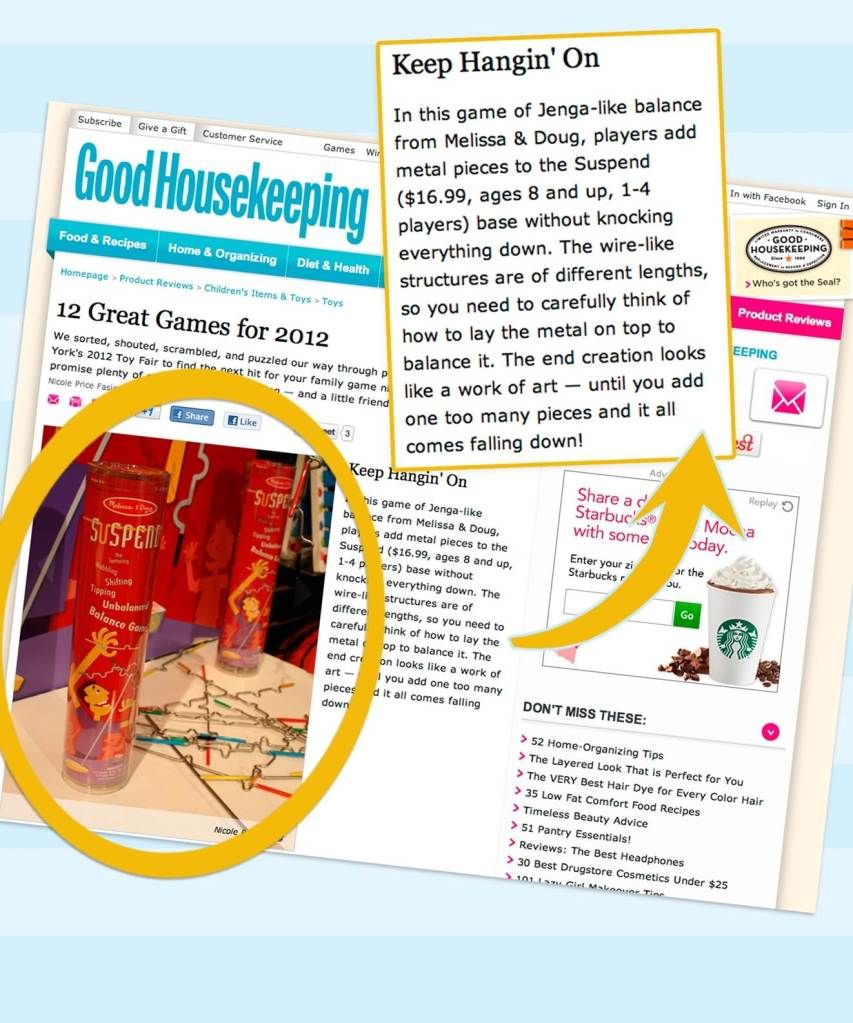 Try this hanging balance game and your family will be hooked! Suspend comes with 24 notched, rubber-tipped wire pieces to hang from a tabletop stand. Sound easy? Try adding another piece! Each time a bar is added, the balance shifts, the difficulty changes and the incredible midair sculpture transforms. Can you add all your game pieces without making it fall? This tricky game for 1-4 players is a test of steady nerves and steady hands.

Enjoy,
Highlights
Voted 'Great Game of 2012' by Good HouseKeeping!
Loved by bloggers across the country
Perfect for Family Game Night
Fine Print
You are ordering directly from 8moms.
Shipping is $5.
All orders will ship out on October 4, 2012
See General Rules that apply to all deals.
More about
Melissa and Doug
Click here for more details.
Over 23 years ago we started our company in the garage of the home where Doug grew up — we had to be careful not to disturb Doug's parents who were still living there! Thanks to your support, we've been able to move into a real office down the road, a building that actually has separate ladies and men's bathrooms! Our philosophy has remained the same over the years–to make each and every customer a happy and permanent member of the Melissa & Doug family, while offering products with tremendous value, quality and design. Our line offers something for everyone with over 1,000 innovative products for children of all ages! We've always welcomed customer suggestions, and we continually strive to make improvements to our products. We're honored by the faith you place in us and view it as our responsibility to continue to earn your trust in the years to come!