Never lose your keys again...Finders Key Purse®!
$15 for $30 of Finders Key Purse
This deal has ended
23:59:00 on 12/5/2011
Refer Friends, Get $8


Get an $8 credit for each friend you refer to 8moms when they make their first purchase!
5 Discipline Traps to Avoid
Making mistakes is part of being a parent, and discipline is an area where we slip up constantly.
More Parenting Articles
Want to say something about this deal?
Description:
What is the key to not losing them?
Isntthisclever.com.

This is one of those super feel good stories that just makes you smile. Sandy Stein was a flight attendant with an idea. A BIG idea. Create a gadget to prevent keys from getting lost at the bottom of your bag. Makes sense, right. Well, NONE of the big distributers liked the idea. Did she give up? No way. She did it on her own and sold more than a million Finders Key Purse® the first year. Thanks to an amazing can-do attitude Sandy has turned into an entrepreneurial superstar. Her products solve problems that every woman wants solved. She even made designs that work for men!
NO MORE DIGGING to the bottom of your purse, diaper bag or briefcase to find your keys.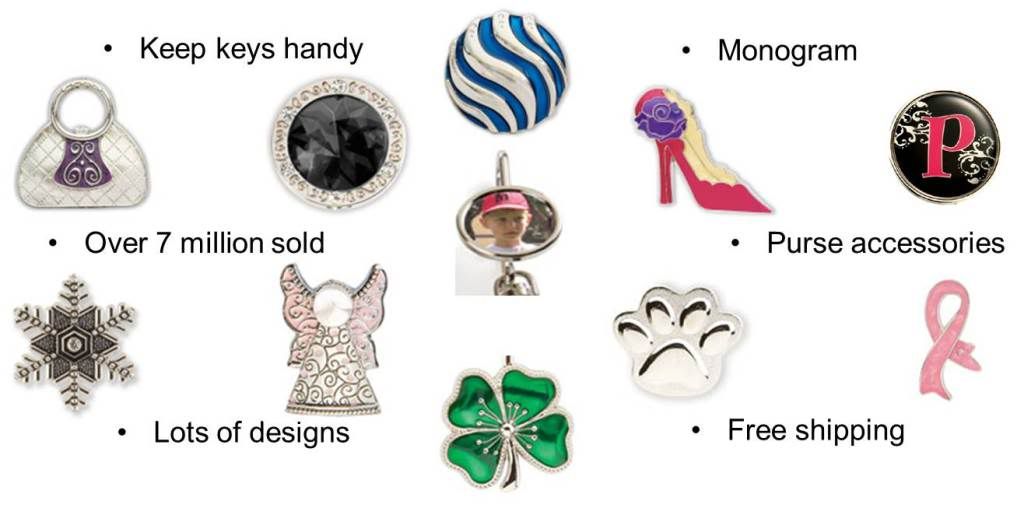 Why Finders Key Purse®?
When your hands are full, when the parking lot is empty, when you need your keys fast, you need Finders Key Purse. It's a hook that you place over the top of one side of your purse. The outside (which hangs on the outside of your bag) is a decorative charm. The inside has a clasp on which to hook your keys. Never rummage for keys again.

AND MORE... check out their super cool Green section and their Gifts page for the Holidays!

Best,
Highlights
Double your spending power
Don't get caught with your head in your purse
Great gifts for the Holidays
Fine Print
Expires 3 months from run date. February 2, 2012.
No partial redemption.
Taxes and shipping not included.
One voucher per transaction, however purchase as many as you like.
See General Rules that apply to all deals.
More about
Finders Key Purse
Click here for more details.
Sandy Stein, mom to Alex, invented Finders Key Purse when Alex was 10. She got lucky and had immediate success selling Finders Key Purse. Isn't This Clever was started to help other inventors have a place to show their product. Finders Key Purse is a fashionable, safety accessory that keeps your keys in the purse and instantly accessible. NO MORE DIGGING to the bottom of your purse, diaper bag or briefcase to find your keys. The first year it made its debut in 2005, 1 million Finders Key Purse were sold! With over 100 designs including NBA, collegiate, monograms, and holiday designs...you will want to buy one for every person on your shopping list. Once you find Finders Key Purse you will wonder how you lived without it.