50% off Baby Signs DVD Set
$25 for Baby Signs Everyday Favorites DVD Set (Value $50)
Ended
$3.95 shipping and handling charges
This deal has ended
23:59:00 on 4/28/2012
Refer Friends, Get $8


Get an $8 credit for each friend you refer to 8moms when they make their first purchase!
5 Discipline Traps to Avoid
Making mistakes is part of being a parent, and discipline is an area where we slip up constantly.
More Parenting Articles
Want to say something about this deal?
Description:
It's a sign!
Baby Signs
My mother gave me a sign language DVD when Ollie was born. It opened up a world of communication with my son that would not have existed at such an early age. At ten months he was able to tell me when he was hungry, wanted cereal, needed milk, was all done and more. It made life so much easier! I knew what I needed to do to make Ollie happy. As he got older, I ordered several more items from Baby Signs that furthered his communication until he was ready to talk. I credit a lot of his large vocabulary and his vocal ability to his early signing work thanks to Baby Signs! Teach your baby to sign and open up a whole new world of communication with this Baby Signs Favorites DVD Set!

My Everyday Favorites DVD Set includes 19 signs that are most often used by babies during mealtime, bedtime and bath time. BONUS! Buy now and get the Video Dictionary DVD with real-life demonstrations of 150 American Sign Language signs and 35 baby-friendly signs.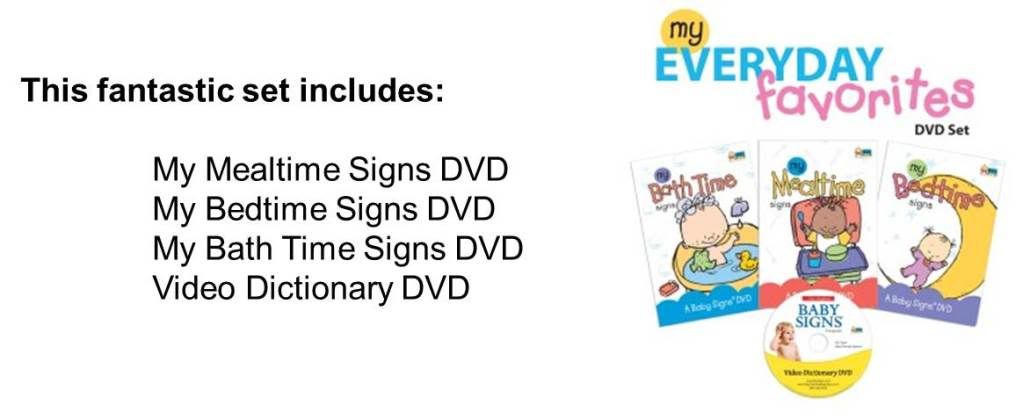 Signing with your baby is easy and fun. Research shows that using sign language with hearing babies helps them learn to talk sooner than babies who don't sign. In addition, signing positively impacts cognitive and social-emotional development. My Everyday Favorites DVD Set was developed by child development experts and click on above photo to see the entire contents of the kit! Baby Sign's NIH-supported research shows that infants exposed to signs during infancy had better receptive and expressive language vocabularies by the time they were two and three years old. In fact, the infants who learned to use signs as infants had verbal IQ scores that remained high well into the elementary school years.

Best,
Fine Print
Taxes not included.
Shipping is $3.95.
Ships only to US addresses only.
No returns.
See General Rules that apply to all offers.
How to Buy:
1) You are purchasing this offer directly through 8moms.
2) Click "BUY NOW" at check out on 8moms and enter your shipping address.
3) Allow 10-14 business days to receive product after your purchase.
4) Keep checking 8moms for more great offers!
Click here for more details.
The Baby Signs Program is the only research based sign language program for hearing babies. With the help of the Baby Signs Program, children too young to use words can still tell their parents what they need, what they see, and even what they remember using simple, easy-to-learn signs. Not only that, but this internationally recognized, award winning program reduces frustration, promotes bonding, and speeds up learning to talk. This critically acclaimed series has been featured on Oprah, The Doctors, USA Today, The New York Times, Good Morning America, and many other national TV shows and magazines.